something to chew on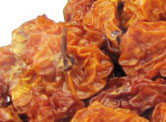 Incaberries are indigenous to the high altitude (approx. 2500 metres above sea level) tropical region of Pichincha in Ecuador, South America and have been enjoyed by the Inca cultures for many centuries.

The 100% Organic Incaberry is a small fruit with a glossy yellow skin encased in a single papery thin leaf and looks a little bit like a yellow tomato on the vine. When dried, the colour of the Incaberry becomes a beautiful bronzed - orange.

After five months of pruning, growing and minimum intervention farming methods, these 100% organic berries are ready for harvest. When ripe all harvesting is performed by hand with care and focus on quality. Incaberries are constantly produced with freshly harvested fruit available on a regular basis throughout the year.

This delicious fruit has a sweet – sour taste profile and is chewy with a hint of crunch due to the tiny seeds in the middle. Incaberries make a great alternative to cranberries or raisins in baking and make a style and taste statement on a cheese platter!

Did you know Incaberries are related to the tomato, eggplant and potato? There is a variety grown in South Africa called the "Cape Gooseberry"

Enjoy our 100% Organic Incaberries in cooking and baking, sprinkle some over muesli or a simple handful as a delicious snack.

The Natural Grocer offers Incaberries in a number of pack sizes. We also produce or own recipe Incaberry Burst mix in various pack sizes.