something to chew on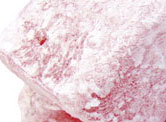 The Natural Grocer is proud to bring you one of the confectionery worlds truly great sweets – Turkish Delight.

The history of Turkish Delight dates back over 500 years, making it one of the oldest sweets in the world. A part of Turkish culture for centuries, the recipe has remained virtually untouched since the day it was first created.

According to legend, in his efforts to cope with all of his mistresses, a Turkish Ottoman Sultan summoned his confectionery experts and commanded them to create a unique desert to add to his collection of secret recipes. As a result, Lokum, better known as Turkish Delight, was born!

Not sure if the Sultan 'coped' with his mistresses, but we do know that Turkish Delight is delicious!

The Natural Grocer offers Rose flavoured, Turkish Delight, dusted in icing sugar, in 4kg packs.