something to chew on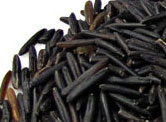 The Natural Grocer only sources the highest quality Grains to bring you the best quality products the world has to offer.

The Natural Grocer offers Grains in a variety of pack sizes for the following products: Bran (unprocessed), Bran straws, Buckwheat raw, Buckwheat roasted, Cous Cous, crushed Wheat fine, L.S.A. mix, Lecithin granules, Oat Bran, whole Pearl Barley, rolled Barley, Polenta, Popping Corn, Psyllium husks, Organic Quinoa, long Brown Rice, short Brown rice, rolled Oats, toasted Oats, Organic rolled Oats, rolled Rice flaked, rolled Rye flaked, rolled Triticale flaked, Semolina, Wheat germ and Wild Rice.

Did you know Wild Rice is often referred to as "The Caviar of Grains"? This sweet tasting nutty textured seed is the preferred grain for those who enjoy creating very special dishes. It is one of the most versatile and flavourful grains known to exist in the world today. Wild Rice is an aquatic cereal grain that grows "wild" in isolated lake and river bed areas located primarily in the Great Lake area of North America.

Buckwheat is actually a herb. This ancient crop was first cultivated in China around the year 1,000. In the 14th Century it travelled with the Mongols to the European part of Russia and moved to Central and Western Europe reaching Britain in the 17th Century. In many cultures, buckwheat is prized for its super nutrition and versatility, and you'll find it in a variety of preparations, such as the buckwheat noodles of Japan and Korea, European buckwheat pancakes, and many Eastern European dishes use buckwheat in its most simple form - wholegrains made into porridges or grain dishes. Buckwheat is highly nutritious, gluten free and is an excellent source of protein and amino acids
LSA mix is a gluten free blend of linseed, sunflower kernels and almonds which are ground together. We mix our L.S.A here in our own facility in Alexandria, Sydney. It can be used in biscuits, rissoles, sprinkled on cereal, mixed into smoothies or just anything you can think of.

Quinoa (pronounced keen-wah) is starting to gain in popularity in Australia as its outstanding characteristics as a food source become better known. Quinoa was one of the most important of the ancient staple foods of the Incas and was known to them as 'the mother grain'. Botanically Quinoa is not a true grain but, like Buckwheat, can be used as one. It has been grown in the South American Andes for thousands of years and thrives in high, cold altitudes.