something to chew on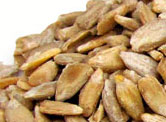 The Natural Grocer only sources the highest quality Seeds to bring you the best quality products the world has to offer.

The Natural Grocer offers Seeds in a variety of pack sizes for the following products: Linseeds whole, Linseed meal, raw Pepitas, Tamari Pepitas, Sesame seeds, Toasted Sesame seeds, Tamari Sesame seeds, Sunflower meal, Sunflower kernels and Tamari Sunflower kernels.

Did you know Pepitas are the green kernels from pumpkin seeds? The seeds are removed from the pumpkin and dried. Pepitas have a delicious nutty flavour and can be eaten raw, toasted, sprinkled on top of your breakfast cereal, added to salads, savoury dishes and roasted vegetables.

Sesame seeds are considered to be the oldest oilseed crop known to man, domesticated over 5,000 years ago. Sesame is very drought tolerant with the ability to grow where most crops fail. Plain or roasted Sesame seeds can be ground into a paste. The thick version of this paste is called Sesame butter and can be used just like peanut butter, delicious when spread on toast. The thinner version of the paste is called Tahini. It is very popular in Asian and Middle eastern cuisine.