something to chew on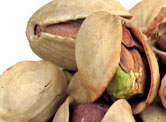 A uniquely beautiful nut, green with purple and pink shades hidden inside a split white shell, the pistachio nut has a long and interesting history. Native to the Middle East, pistachio nuts are one of the oldest flowering nut trees.

Recent archeological evidence in Turkey suggests that humans were enjoying them as early as 7,000 B.C. Flourishing in hot climates, pistachio nuts spread from the Middle East to the Mediterranean, quickly becoming a treasured delicacy among royalty, travelers and common folk alike.

The Natural Grocer has been sourcing only the finest Australian grown Pistachio nuts since the late 1990's. The secret to growing great Pistachio nuts is hot days and cold nights in order for the tree to bear fruit.

Did you know, that according to legend the Queen of Sheba decreed pistachio nuts an exclusively royal food, going so far as to forbid commoners from growing the nut for personal use.

Like fruit and vegetables, Pistachios are packed with vitamins, minerals, antioxidants and phytochemicals – in other words, they are good for you!

Enjoy our Australian grown Pistachios in cooking and baking or a simple handful as a delicious snack.

The Natural Grocer offers Pistachios in a number of pack sizes in the following varieties: Whole kernels, roasted in shell and salted in shell.