something to chew on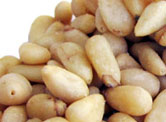 The Ancient Greeks and Romans believed the Pine nut to be an aphrodisiac. Whether for that reason or not, the Pine nut continues as a standard ingredient in today's Italian cuisine and in the Greek favourite Spanakopita!

In South America and some southern states of the US, Pine nuts are ground to make Pine nut coffee. Pine nuts are perhaps best known in Australia as a key ingredient in pesto.

Pine nuts are the edible seeds of the pine tree, removed from pine cones. Each cone holds about 50 nuts you'll need around 5kg of cones to harvest 1kg of nuts. When first harvested the seeds are covered with a dark hard seed coat that has to be removed before they are eaten. That's a lot of effort for such a small nut!

Did you know that the European Stone Pine tree has been cultivated for its nuts for over 6,000 years?

Like fruit and vegetables, Pine nuts are packed with vitamins, minerals, antioxidants and phytochemicals – in other words, they are good for you!

Enjoy our Pine nuts in cooking and baking or a simple handful toasted as a delicious snack.

The Natural Grocer offers Pine nuts in a number of pack sizes in the following varieties: Raw large kernels and raw small kernels.