something to chew on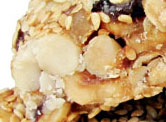 The Natural Grocer has sourced one of the truly great sweet treats of the world – Pastelli Bites.

Based on an original Greek recipe, our Pastelli bites are a delicious mix of crunchy Peanuts, zesty Orange Peel, juicy Sultana's and smooth Honey covered in toasted sesame seeds. It really doesn't get any better than that. We've even cut them into bite size pieces to make them even easier to eat.

The Natural Grocer offers Pastelli Bites in 300g bags or in bulk.