something to chew on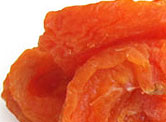 The Apricot was known in Armenia during ancient times, and has been cultivated there for so long, it is thought to have originated there. Alexander the Great is said to have brought the Apricot to Greece and the Roman General Lucullus (106–57 B.C.) sent the Apricot tree, amongst others, to Europe from Armenia.

The Natural Grocer sources the finest Apricots from Turkey and from right here in Australia. The Fancy (Fancy is an industry term meaning best quality) Large Apricots are dried halves, have a quite tart flavour and a delicious chewy texture. They are a vivid orange colour and are grown in Australia.

Turkish Apricots are dried whole and are golden yellow in colour, with a mild Apricot flavour and chewy texture. Unlike the Australian halves, these look exactly like an Apricot.
The third variety we offer are sundried whole Organic Turkish Apricots. These are very special Apricots. They are rich and luxuriant with an almost caramel-like flavour, have a firm texture and are a very dark orange to an almost dark toffee in colour. Absolutely delicious!

Did you know the Italian liqueur Amaretto and Amaretti biscotti are flavoured with extract of Apricot kernels?

Enjoy our dried Apricots in cooking and baking, chopped and sprinkled over your favourite breakfast cereal, excellent on a cheese platter or a simple handful as a delicious snack.

The Natural Grocer offers dried Apricots in a number of pack sizes.