something to chew on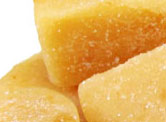 The Natural Grocer is proud to bring you Mango & Pineapple Delight. Made with real dried fruit, these little chewy beauties are made with Pineapple, Mango, Pear and Coconut to make a tasty, fruity treat for the whole family. Ideal at snack time and perfect for lunch boxes.

The Natural Grocer offers Mango & Pineapple Delight in a variety of pack sizes.