something to chew on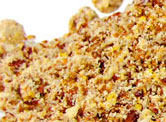 The Natural Grocer only sources the highest quality Meals to bring you the best quality products the world has to offer.

The Natural Grocer offers Meals in a variety of pack sizes for the following products: Blanched Almond meal, Natural Almond meal, Hazelnut meal and L.S.A (Linseed, Sunflower and Almond).

Did you know Almond meal is a great alternative to flour for those looking for a Gluten free option?