something to chew on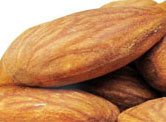 The origin of the versatile almond is thought to have come from China and Central Asia, from which it spread to regions of the Mediterranean via explorers and adventurers travelling along the 'Silk Road'.

These days, almonds are grown in countries such as Australia, USA, Spain, Italy and Turkey. The Natural Grocer only chooses the highest quality Australian grown almonds from New South Wales, South Australia and Victoria. If Australian Almonds are unavailable we will source the next best product available.

Almonds are mentioned in the Bible, the Romans showered newlyweds in them as a 'fertility charm', the pharaohs in ancient Egypt enjoyed almonds in their bread and in many cultures around the world they are covered in sugar and handed out to wedding guests for good luck and good health. They have been around a while, that's for sure.
Did you know that it takes up to three years for an almond tree to grow its first crop? Typically the tree matures at around seven years old and has an average lifespan of around 25 years.

Like fruit and vegetables, almonds are packed with vitamins, minerals, antioxidants and phytochemicals – in other words, they are good for you!

Enjoy our Australian grown almonds in cooking and baking or a simple handful as a delicious snack.

The Natural Grocer offers almonds in a number of pack sizes in the following varieties:
Kernels, pesticide free kernels, blanched, diced, sliced, slivered, meal, salted, dry roasted, smoked, Vienna and Tamari.