something to chew on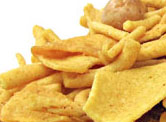 This hot, spicy crunchy mix of the flavours of India will get your tastebuds jumping and pumping. A skilful blend of Chickpeas, Green Peas, Peanuts and juicy plump Sultanas have been expertly cooked in chillies, turmeric and a secret blend of herbs and spices.
We only use the highest quality ingredients which have been carefully selected by our team of experts to deliver on flavour and presentation.

Perfect for any occasion, just add drinks and friends!