something to chew on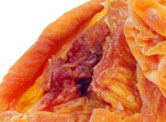 Peaches have an ancient history. They were first cultivated in China over 2400 years ago and were carried along the old silk routes by traders to Persia. Many people thought Peaches originated in Persia, indeed the Romans believed so and called them 'Persian Apples'.

Peaches belong to the Rose family and grow on trees with flowers that are either small and a rosy pink in colour or a pale pink colour on the bigger flowers. Peaches are also related to Almonds.

Did you know that Peaches were considered a symbol of immortality and friendship and are found in many Chinese paintings, on porcelain and in poetry as far back as 551 BC?

Our dried Peaches have an intense sweet Peach flavour profile and a soft chewy texture. An incredibly delicious, 'mess free' way to enjoy a Peach!

Enjoy our dried Peaches in cooking and baking, chopped and sprinkled over your favourite breakfast cereal, an excellent addition to your cheese platter or simply one or two halves as a snack.

The Natural Grocer offers dried Peaches and Glace Peaches in a number of pack sizes.