something to chew on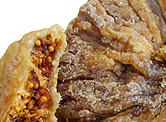 Wild Figs have grown for thousands of years and Fig seeds have been discovered in Bronze Age settlements throughout the Mediterranean. Dried Figs have been cultivated since ancient times and were even found in the ruins of the city of Pompeii.

Today, Turkey is the world's leading producer of Figs. The climate there is particularly well suited to the tree and can tolerate seasonal droughts. Figs are harvested from mid - August onwards and the fruit is not removed from the tree until it has fully ripened and started to dry out on the branch.

Once picked, the fruit is laid to dry out under the Aegean sun – just like a British holiday maker! The Figs are then washed and processed, 'shaped' and then packed.

Did you know that Spartan warriors ate dried Figs as a part of their staple diet? Fig leaves have played an important 'censorship' role in classical art and sculpture, protecting the modesty of the model!

Enjoy our delicious dried Figs in baking, make the perfect companion to a cheese platter, fantastic wrapped in prosciutto or on their own as a delicious snack.

The Natural Grocer offers sulphur free Figs and organic sulphur free Figs in a number of pack sizes.