something to chew on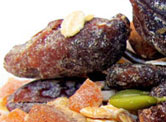 The delicious Natural Grocer Muesli range can be found gracing the breakfast tables of homes across Australia and some of Australia's finest Hotels.

Our Bircher Style Muesli is a faithful representation of the original 'Birchermüesli', created by Dr Maximilian Oskar Bircher-Benner (1867-1939), a pioneer of the biological health medicine and whole foods diet in Zurich, Switzerland.

A tasty blend of oats, raisins, dried apricot, dried apples, dates, sunflower seeds, linseeds and buckwheat combine to deliver a delicious breakfast experience.

Enjoy our Bircher Style Muesli by soaking overnight in fruit juice or milk – even swap half of the milk with cream for a richer treat. Add milk the next day to enjoy a bowl of this soft style muesli.

Goji Fruit & Nut: a delicious mix of sultanas, rolled rye, sunflower seeds, pumpkin seeds, dried apricot, almonds, raisins, walnuts, dried dates and of course goji berries. But, it isn't what we put in that makes this a fantastic muesli, it's what we left out as well! There are no preservatives and no added colours, is also low in sodium as well as being a good source of fibre. That's ticked a few boxes!

Premium: a supreme blend of oats, wheat, coconut, pepitas, dried apples, dried apricots, dried paw paw, dried dates, sultanas and almonds to name but a few.

Premium toasted: a fabulous blend of oats, which have been delicately dry toasted in pear juice, wheat bran, dried dates, dried apricots, sultanas, dried pineapple, coconut, dried paw paw and almonds to name but a few.

Sunrise: a lighter way to start the day, we've added more wheat and oats and diced the dates to compliment the coconut, linseed, dried pineapple, dried paw paw and sultanas to name a few.

Yeast & Wheat free: we have created a delicious mix of rolled barley, rolled oats, rolled rice, sunflower seeds, almonds, pepitas, coconut, linseeds, sesame, lecithin and buckwheat.

Enjoy our Muesli with your favourite yoghurt or fruit topping, but we find fresh orange segments to be the best, or just covered with delicious cold milk.

The Natural Grocer offers our muesli range in a number of pack sizes.