something to chew on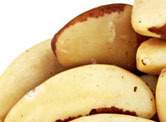 The Brazil nut is native to the Amazon jungle, bordered by Peru, Brazil and Bolivia. Brazil nut trees grow 'wild' and not farmed or grown in orchards. The tree is one of the largest in the Amazon rainforest, reaching up to 50 metres tall and can be almost 2 metres in diameter.

The nuts grow in pods which fall to the ground when ripe. The pods are collected in the jungle by 'Castanheiros' (usually local farmers) using simple handmade tools. This can be a hazardous job as the pods are about the size of a coconut, quite heavy and have a long way to fall!

Once collected, the pods are cracked open and the nuts harvested. Each pod can hold up to 20 nuts which are arranged like the segments of an orange and are in their own husk or shell. The pods are discarded on the jungle floor to slowly decompose.

The first reference to the Brazil nut dates to 1569 when a Spanish colonial officer collected thousands of them to feed his troops. Brazil nuts were first introduced to the Europeans by Dutch traders in the late 17th century.

Did you know it takes up to 30 years for the Brazil nut tree to mature and can produce past 100 years old? There have been local reports that the tree can live to be over 500 years old. That's a lot of nuts!

Like fruit and vegetables, Brazil nuts are packed with vitamins, minerals, antioxidants and phytochemicals – in other words, they are good for you!

Enjoy our Brazil nuts in cooking and baking, chopped and sprinkled on your favourite breakfast cereal or a simple handful as a delicious snack.

The Natural Grocer offers Brazil nuts in a number of pack sizes as raw kernels.