something to chew on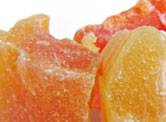 We source only the finest dried Paw Paw (or Papaya) from Thailand. A beautiful colour combination of vibrant reds and oranges make this one of the most beautiful looking dried fruits available and ours has no added colour!

Paw Paw has an intense tropical fruit flavour profile with a chewy texture making this an absolute snack time favourite. Be aware though, that dried Paw Paw has a high sugar content.

Did you know Paw Paw is an extremely versatile fruit? It can be turned into skin cream, lip balm, tea and the seeds can be ground and turned into a salad dressing?

Enjoy our dried Paw Paw in cooking and baking, chopped and sprinkled over your favourite breakfast cereal or a simple handful as a delicious snack.

The Natural Grocer offers dried Paw Paw as Chunks, Diced or as Spears in a number of pack sizes.