something to chew on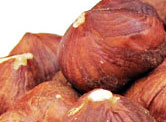 An absolute firm favourite amongst chocolate connoisseurs, this versatile nut can be made to compliment a whole range of sweet and savoury foods. It can even be made into a delicious alcoholic drink!

The hazelnut is the fruit of the hazel tree, a small, decorative tree that thrives in humid and temperate climates. And it's been around a while. The hazelnut is mentioned in Chinese manuscripts dating back 5,000 years.

Hazelnuts are produced commercially in a number of different countries around the world, including Italy, Greece and the USA but the largest producing country is Turkey, with a staggering 75% of the total volume.

Did you know that the Chinese considered the hazelnut one of "the five sacred nourishments bestowed on mankind by the gods". They must be good then.

Like fruit and vegetables, Hazelnuts are packed with vitamins, minerals, antioxidants and phytochemicals – in other words, they are good for you!

Enjoy our Hazelnuts in cooking and baking.

The Natural Grocer offers Hazelnuts in a number of pack sizes in the following varieties: Raw, roasted and natural raw meal.