something to chew on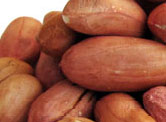 The much maligned Peanut remains a firm favourite in Australia and can be found in pantries, kitchens, pubs, restaurants etc up and down the country.

Archaeologists have dated the first Peanut to as far back as 7600 years ago in Peru. Cultivation spread via Spanish Conquistadors and then later by European traders. Portuguese traders introduced Peanuts to China in the 17th century and today, China is the world's biggest producer.

Peanuts have been grown in Australia since the 1860s, rumoured to be brought in by Chinese prospectors during the Gold rush. Peanuts only became a commercial crop in Australia in the early 20th Century.

The Natural Grocer selects only the finest Peanuts available from Kingaroy in Queensland. In fact, our company founder, Chris Keldoulis, went by the knick name 'Kingaroy Chris' when he first started selling nuts from his stall outside the Liverpool law courts in the 1940's.

Did you know that the Peanut isn't a nut but a legume? They grow in the ground and not on trees.

Like fruit and vegetables, Peanuts are packed with vitamins, minerals, antioxidants and phytochemicals – in other words, they are good for you!

Enjoy our Australian grown Peanuts in cooking and baking or a simple handful as a delicious snack. Try our Peanut Butter grade Peanuts to make your own Peanut Butter!

The Natural Grocer offers Peanuts in a number of pack sizes in the following varieties: Kernels with skin, raw blanched, roasted, salted, tamari, sugar coated, chilli, BBQ, curry, garlic, Kri Kri chilli, Kri Kri BBQ, granulated and Peanut Butter grade.