something to chew on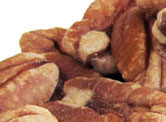 Pecans are native to North America and have only been commercially cultivated for the last 140 years or so. Of course, the most famous use for a Pecan is in Pecan pie.

Commercial production began in Australia in the mid 1960's and today approximately 85% of Australia's commercial Pecan production comes from Toowoomba in Queensland. The Natural Grocer only sources the finest quality Pecans from Australia.

Pecan trees are known to live for up to 800 years, and there are trees in commercial orchards in the USA that are 80 years old.

Pecans have a growing season of 240 to 280 days, with the nuts being on the tree for 6 to 7 months.

Did you know that it takes up to 7 years for the tree to mature? Mature trees may average 3500 kg per hectare, with high yielding orchards producing up to 5000 kg per hectare. That's a lot of nuts!

Like fruit and vegetables, almonds are packed with vitamins, minerals, antioxidants and phytochemicals – in other words, they are good for you!

Enjoy our Australian grown Pecans in cooking and baking or a simple handful as a delicious snack.

The Natural Grocer offers Pecans as raw large kernels in a number of pack sizes.