something to chew on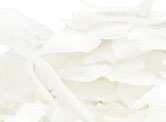 The 'Swiss Army Knife' of the plant world. You can eat it, drink it, make rope with it, turn the shell into charcoal, make a floatation device and mimic the sound of horse's hooves with it!

However, at The Natural Grocer, we prefer to chip, shred, dessicate and toast ours.

The English name 'coconut' is first mentioned in English print in 1555 and comes from the Spanish & Portuguese word 'coco' which means monkey face! A reference to the pattern on the bottom of the shell.

It takes up to a year for the coconut to mature and the tree's bloom 12 – 13 times a year. A very busy tree, with an average of 60 coconuts per harvest.

Did you know that the coconut isn't even a nut? It is a 'drupe' (a fruit with a hard covering enclosing the shell) making it closer to a peach or an olive.

Enjoy our Coconut in cooking and baking or sprinkled over your favourite breakfast cereal or ice cream.

The Natural Grocer offers Coconut in a number of pack sizes in the following varieties: Chipped, shredded and dessicated.