something to chew on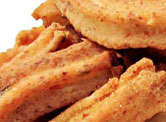 A firm family favourite, these crunchy sticks of snack time heaven have a slight salty, sweet almost malty flavour which just makes them all the more delicious! Great in lunch boxes or when you are feeling a little peckish.

And introducing the newest member of the crisp family - Multigrain Chia Crisps. A different taste sensation with the goodness of multigrain mixed with the 'seed of the moment' Chia. Still taste great, still great for lunchboxes and still very, very moreish!

Best enjoyed alone so you can eat them all yourself.