something to chew on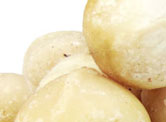 Australia's nut! Aborigines had enjoyed them for thousands of years before explorer Alan Cunningham became the first European to discover them in 1828. In 1857 the German/Australian botanist Ferdinand von Mueller named the nut Macadamia after his close friend the scientist Dr. John Macadam.

Australia is the world's largest Macadamia producer, predominantly from northern New South Wales and south eastern Queensland. Macadamias are also grown in South Africa, Brazil and California to name a few. But we think the Aussie ones are the best!

Macadamia trees grow slowly to a height of around 12m – 15m in orchards. The trees have dark green leaves and sprays of sweet smelling white or pink blossoms. An average spray of 40 – 50 flowers can produce up to 15 'nutlets' which ripen into nuts. No wonder the nuts taste so delicious coming from such a good looking/smelling tree.

Encased in a hard woody shell, the nuts are harvested from the ground each year between March and September.

Did you know that the Macadamia is the only native Australian bush food to enter into commercial food production?

Like fruit and vegetables, Macadamias are packed with vitamins, minerals, antioxidants and phytochemicals – in other words, they are good for you!

Enjoy our Australian grown Macadamias in cooking and baking, particularly covered in chocolate or in a great tasting cookie, or a simple handful as a delicious snack.

The Natural Grocer offers Macadamias in a number of pack sizes in the following varieties: Raw, roasted, salted and in a paste.