something to chew on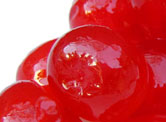 Glace fruit has been a traditional method for preserving fruit since the 14th Century. Whole fruit, smaller pieces of fruit, or pieces of peel, are placed in heated sugar syrup, which absorbs the moisture from within the fruit and eventually preserves it. Depending on size and type of fruit, the whole process can take from several days to several months.

Enjoy our Glace Fruit in cooking and baking particularly in Christmas cakes, biscotti and Bakewell Tarts!

The Natural Grocer offers Glace Fruit in a number of pack sizes in the following varieties: Whole Green Cherries, Whole Red Cherries, Apricots, Apricot & Pineapple, Figs, Fruit Salad, Ginger, Peaches, Pears, Pineapple, sliced Orange and diced Peel.